Welcome to the Hotline Wiki
Hotline Wiki is a collaboration of everyone on the Hotline community. We intend to document everything Hotline, from servers that made history, protocol and community information and history to current servers, latest news and developments, as well as to provide useful information to newcomers getting started with Hotline, including how to start and run their own server.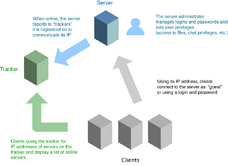 We are looking for individuals that currently reside on Hotline, so please step forward and assist us in this effort. Hosting for downloads will be provided offsite by contacting Tagban. We are also looking to build a nice sized database of all possible clients, servers and trackers, as well as the source code that goes with them, working on moving Hotline forward into a new era, and to encourage more developers to step forward and work on related projects.
Thanks to some new projects being pushed ahead, we're starting to ramp up documentation to ensure that newer clients get the proper protocol specs to enable them to work with both old AND new servers. One advancement recently was within the client "Pitbull Pro" which added the ability to handle files larger than 4GB. Further information can be found on the Hotline server hosted by UberFox, or on the website linked to from the clients page.
~Tagban/LostArch
If you can't find what you are looking for, you might want to check the page index.
Hotline Clients
One of our goals is to bring up the development of Hotline clients. You can take a look at the clients that there are currently available and in development in the clients page. There are two clients currently being worked on. One for Mac OS X and another for Windows (although written in Qt). A third client has begun being developed as a remake of the old "Pitbull Pro" but remastered for Windows. You can find this download link also on the clients page. You can connect to his server, hltracker.com for more information. Want to see the list of trackers? Or run one of your own? Check out our Trackers page.
Latest activity